Introduction to National Chin-Yi University of Technology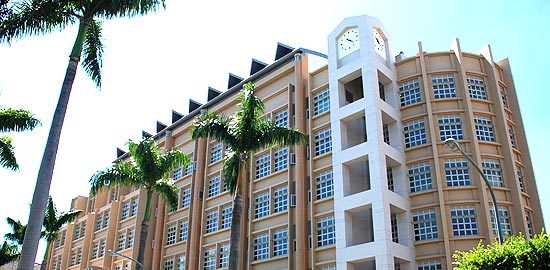 The National Chin-Yi University of Technology (NCUT) was originally a private institution founded by General Chang Ming and Ms. Wang Kuo-hsiu in 1971 to cultivate advanced professional talents in engineering and management. As the founders believed in social responsibility of giving back what you have taken from society, they donated the school to the government in 1992 to actualize their idea of "education is nothing but role models for students." NCUT is located in a newly developed satellite city where Taiping Industrial Area, Dali Industrial Park, Taichung Industrial Park, Taichung Export Processing Zone, and the Central Taiwan Science Park located. It is also close to the "Golden Valley" –Taichung Precision Machinery Innovation Technology Park. Therefore, we have excellent opportunities and resources to conduct industry-academy cooperation.
With efforts by previous presidents, faculty members, and students, we are presently in a vigorous period of growth NCUT had undergone four stages of development – Chin-Yi Junior College of Engineering (August 1971 – June 1992), the National Chin-Yi Junior College of Engineering (July 1992 – July 1999), the National Chin-Yi Institute of Technology (August 1999 – January 2007), and the National Chin-Yi University of Technology (February 2007 - ).
Following the motto of "diligence, determinacy, sincerity, and honesty," we cultivate talents with professional skills and virtues – "professional know-how, humanistic concern, social responsibility, international outlook." At present, we have 5 colleges including College of Engineering, College of Electrical Engineering and Information Science, College of Management, College of Humanities and Creativity, and College of General Education; 14 Academic Departments; 12 Master's Programs, and aPh.D. Program, with a student population of about 11,547.
Being endeavored to build an excellent learning environment, we have evolved from being a "green university of technology dedicated to quality industry" to the current objective of being an "innovation-oriented university of technology dedicated to quality industry."
To achieve our mission of cultivating professional talents and renovating vocational education, we have founded a base in central Taiwan. Aspiring to satisfy the needs of the local industry in central Taiwan, we cultivate professionals and promote students' ability in technology, research and development.
In addition, we enhance the faculty capabilities in work and R&D, and advocate our ideas enthusiastically. NCUT enjoys the merits of being a national university while embodies the spirits of a private school. Situating in the neighborhood of the precision machinery industrial community in Taiwan, our campus occupies 30 hectares on an excellent area that is ideal for conducting industry-academy cooperation. To cope with trends of national development and changes in social environment, we have set our own goals and objectives.
We are working towards the goal of becoming an R&D institute for "machine tool technology" and "green technology." With our College of Humanities and Creativity, and College of Management, we integrate the potentials of "machine tool industry and green technology industry" with the applications of "engineering and information science" and "the foundation of management and humanities" in an interdisciplinary manner.With an outstanding structure for industry-academy cooperation, NCUT has accomplished a lot. Led by previous presidents, our faculty members and students have worked diligently in aspects of teaching, learning, curriculum design, research and development, teaching environment, and connections with the industries, which all delivered outstanding results.
Through integrating research with local businesses and industries, we have forged a friendly environment for industry and academy. We encourage our faculty to engage in academic research and industry-academy cooperation, instructing our students to put the theories they've learned at school into practice.
In addition, we have been working ceaselessly to promote our international outlook with "global connection and local action" as the core, which includes promote positive teaching and research quality, and seek more internship opportunities for students to cultivate multi-dimensional thinking and global perspective.
Since our establishment, we has more than 70,000, alumni that are spread throughout the world. With ample experience in practice and solid knowledge of theory, our alumni have positive attitude at work, and receive high acclaim from industries and businesses.
With brilliant accomplishments in the "Teaching Excellence Project" and integration of the "Project of Exemplary University of Science and Technology," we will constantly improve our teaching quality, apply skills and knowledge students learned in work, and enhance their employability.
With the belief in "NCUT's future as our future," our faculty members and students strive to strengthen contents and quality of vocational training with stable, practical, and positive approach. We also dedicate to promoting Taiwan's competitiveness and face the challenges of a new era.