The first ever "Production Line Simulation Center" in Taiwan is finally complete on Aug 13th 2020
The first ever "Production Line Simulation Center" in Taiwan
---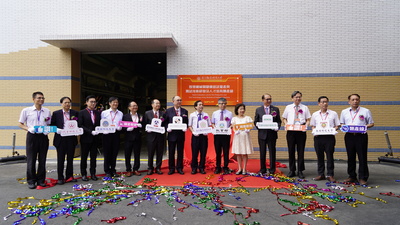 The first ever "Production Line Simulation Center" in Taiwan is finally complete on Aug 13th 2020. The Ministry of Education's administrative secretary Meng-chi Liu, director of vocational schools Yu-Hui Yang, three partnering universities, president of HIWIN Yong-Cai Zhuo, chairman of Taiwan Machine Tool & Accessory Builders' Association (TMBA) Wen-Xian Xu, general manager of Precision Machinery Research & Development Center(PMC) Yong-Xiang Lai, deputy secretary general of Taiwan Association Machinery Industry(TAMI) Zhi-Chang Chen, and representatives from 20 CNC companies were brought together to witness the completion of the site.
Ministry of Education has subsidized this project in hopes of nurturing experts in multiple fields of study.
43 million TWD were funded by Ministry of Education to provide National Chin-Yi University of Technology (NCUT) the chance of developing this 4 year program (Aug 28th 2018 to Aug 31st 2021) in constructing the "Production Line Simulation Center". The funding were used on installing features such as component manufacturing, assembly and quality management, and the application of industry level technology. The inclusion of smart machinery in the campus would benefit its students and increase their performing skills. Ministry of Education's administrative secretary Meng-chi Liu, states that in order to optimize the environment of university of technology, we scheduled our first fund of the season to construct the "Production Line Simulation Center" in hopes of improve the education quality of its students, keep the education system up to date with the industry, and prepare the young for their possible future career.
As global orders are become more and more common, the intelligence of CNC becomes increasingly crucial.
NCUT President Wen-Yuan Chen said that machinery is the basics of our industry and a symbol of national competitiveness. The machinery industry is an important foundation for Taiwan's industrial improvement, and machine tools and key components play an important role in the field of manufacturing. The development trend of the global manufacturing industry has shifted from centralized mass production to small customized order model. With the rapid changes in market demand, only by mastering and combining smart manufacturing software and hardware technologies, key modules and multi-axis processing machines can it compete with global manufacturers.